4 Amazing Health Benefits of Shear Butter
The English word "shea" comes from s'í, the tree's name in Bambara. It is known by many local names, such as kpakahili in the Dagbani language, taama in the Wali language, kuto in Twi, kaɗe or kaɗanya in Hausa, òkwùmá in the Igbo language, òrí in the Yoruba language, karité in the Wolof language of Senegal, and ori in some parts of West Africa and many others.
This luxurious shear butter is very thick and solid at room temperature but has a buttery rich consistency that makes it ideal for use as a natural eye cream, lip balm, or body butter. Many studies show that it is especially good at penetrating the skin and contains 60% fat, making it highly emollient.
Thanks to some other special properties, shear butter does more than moisturize … it delivers key anti-inflammatory and anti-aging fatty acids right into the skin.
What is Shear Butter?
Shear butter is a skin superfood that comes from the seeds of the fruit of the Shea (Karite) tree.
Shear butter has been used in Africa and many other locations for years to improve skin and hair.
It also has a long history of medicinal use, such as in wound care and even treating leprosy.
It's also not uncommon in that part of the world to eat shea as well, much as we use palm oil in products.
There's differing opinions on whether or not it's healthy to eat, and since some studies suggest that ingesting shea butter may interfere with the digestion of other proteins, I use it externally only.
4 Amazing Shear Butter Benefits
1) Moisturizing
The concentration of natural vitamins and fatty acids in shea makes it incredibly nourishing and moisturizing for skin.
It is often used to remedy dry skin and to help protect the skin's natural oils.
2) Reduces Inflammation
A 2010 study found that due to its cinnamic acid and other natural properties, shea butter was anti-inflammatory.
One compound in particular, lupeol cinnamate, was found to reduce skin inflammation and even potentially help avoid skin mutations. This also makes it beneficial for some people with acne.
Read Also: Top 15 Healthy Foods for your Body
3) Skin Smoothing
Shea aids in the skin's natural collagen production and contains oleic, stearic, palmitic, and linolenic acids that protect and nourish the skin to prevent drying.
With long-term use, many people report skin softening and strengthening as well as wrinkle reduction.
The good news is, it's great to use on kids and babies too!.
4) Provides Relief To Itchy And Peeling Skin
For itching skin, both the moisturizing and the anti-inflammatory properties of shea butter prove to be beneficial.
Dryness can cause your skin to start peeling and/or become flaky. It can cause the skin to itch.
The moisturizing fatty acids of shear butter can provide relief by supplying the skin with the oils it needs.
If the itching is due to a skin condition like psoriasis, the anti-inflammatory activity of shear butter works really well to alleviate it.
Read Also: How to Plant Maize – Complete Beginners Guide
Basic Facts About Shear Butter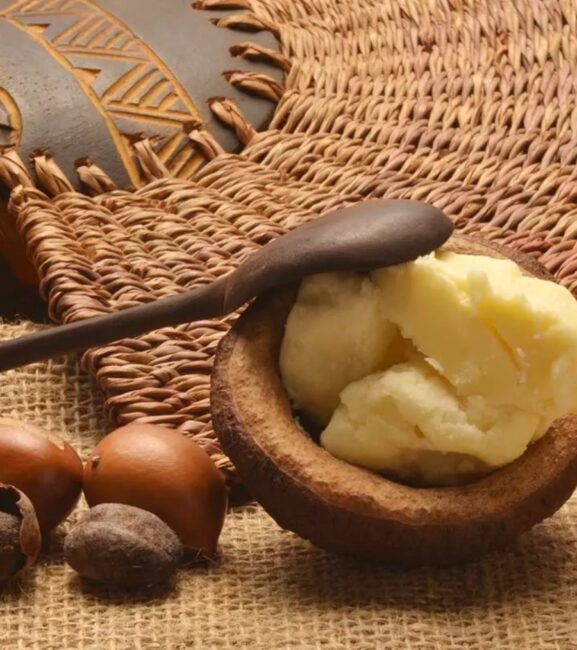 Store shear butter out of direct light or heat. Several sources suggest shear butter may go rancid or expire within 12-24 months, but since it has so many uses I never have a jar of it that long. Leave it out on your bathroom counter and watch it disappear!.
All of the calories in shear butter come from fat.
Researchers have identified stearic, linoleic, and palmitic fatty acids in the oil as well as other fatty compounds.
Shea butter provides no protein.
Note: Consuming too much fat, even healthy forms of fat, can contribute to unwanted weight gain.
Why Is Shear Butter Good?
butter is often used in moisturizers, creams, lotions, and other emulsions for the skin and hair.
It is rich in fats that make it an excellent emollient and skin moisturizing agent. Experiments also showed it has anti-inflammatory and antioxidant properties.
These can help reduce inflammatory skin diseases and the damage the skin and hair have undergone due to free radicals.
It also contains vitamins A and E, which not only keep the skin in optimal health but also protect it from being damaged by the sun's harmful ultraviolet radiation.
These components give shear butter a mild sun protection factor (SPF).
Vitamin E also soothes dry skin and improves the skin's elasticity, making this butter a good anti-aging agent.
Read Also: 10 Health Benefits of Unripe Plantain
Have you visited our Market Place Today? Follow this link to visit Globalinfo247.com Market Place now to check out our affordable products & services that might interest you and solve your current needs at a very cheap price. You can also Advertise your Own Products & Services at the Market Place for Free by clicking on this link to Get Started!
Create a thread for all your related questions to get answers from other members and professionals in the field. Click here on the "Questions & Answers" Section to view or submit your Questions or Answers to previously asked related questions.