Cardi B defends Kylie Jenner's 'WAP' cameo, but there's history behind the anger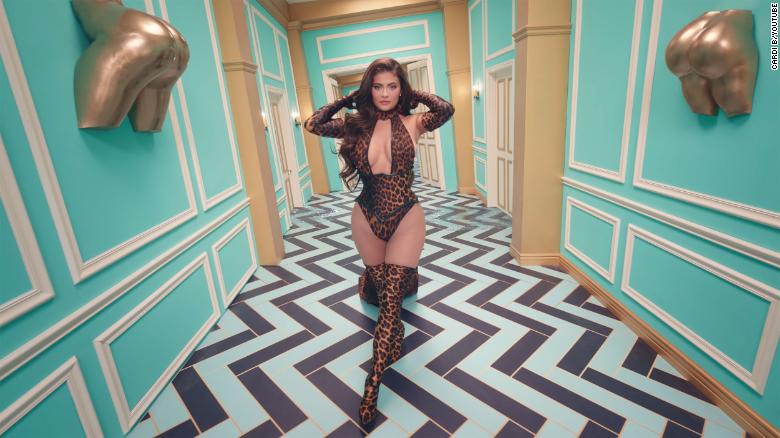 Kylie Jenner's cameo in the music video for Cardi B and Megan Thee Stallion's new hit, "WAP" has sparked enough backlash that a petition to have her removed has garnered thousands of signatures and motivated Cardi B to defend her.
But the issue goes beyond Jenner strolling in a sexy outfit.The Change.org petition calling for Kylie Jenner's scene to be excised from the "WAP" video reads, "The video was perfect until we saw K and I wanted to throw my phone.
" The Root writer Danielle Young perhaps better summarized the frustration some Black women felt seeing Jenner, a White woman, in a video that seems to celebrate Black women owning their sexuality.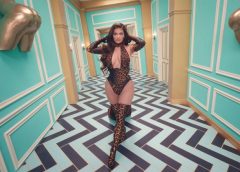 Young tweeted a clip of singer Normani fiercely dancing in the "WAP" video, writing "Normani did ALL this and Kylie walked down the hall and opened a door."
"If that's not a perfect visual indication of Black women having to do the most and white women do the bare minimum to get somewhere, I don't know what is," Young tweeted.Cardi B responded in a series of since-deleted tweets, writing "Not everything is about race.
""Why did I put Kylie on my music video? She treated my sister and daughter so lovely at her kid birthday party," Cardi B tweeted, adding that her husband, rapper Offset, is close with rapper Travis Scott, the father of Jenner's daughter, Stormi.
Has reached out to reps for Kylie Jenner, Cardi B and Megan Thee Stallion for additional comment.
There has been long-simmering anger among some African Americans who have complained that women in the Kardashian/Kylie Jenner family have often appropriated Black culture to benefit their various brands.Pepsi famously pulled a commercial that featured sister Kendall Jenner handing an officer a can of soda during a fictitious protest in 2017 after it was accused of appropriating the Black Lives Matter movement.
Kim Kardashian West was slammed that same year for appearing with darker skin on the cover of Interview magazine, where she channeled the classic look of former first lady Jacqueline Kennedy.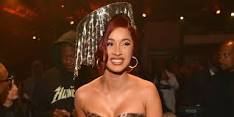 Darkening one's skin for fashion purposes or social media has come to be known as "blackfishing," a play on "catfishing" in which a person pretends to be someone they are not. Kardashian West also sparked backlash for wearing her hair in braids to the 2018 MTV Video Music Awards.
Read Also: Kim Kardashian Reunites With Kanye West Amid Tears
In 2014, Kylie Jenner posted a photo on Instagram of entrepreneur and woman of color Heather Sanders wearing blue hair.
Months later,Kylie Jenner was both rocking blue hair extensions as well as selling them via a partnership with hair company, Bellami, according to Marie Claire magazine, which noted that Jenner did not acknowledge Sanders as her inspiration.
Jenner has also been accused of using lip fillers, a procedure she admitted to in 2015, to change her lips to appear more like some Black women's.In 2016, Khloe Kardashian was criticized for sporting "bantu knots," another Afro-centric hairstyle, and suddenly videos and articles were popping up as if she had invented the look.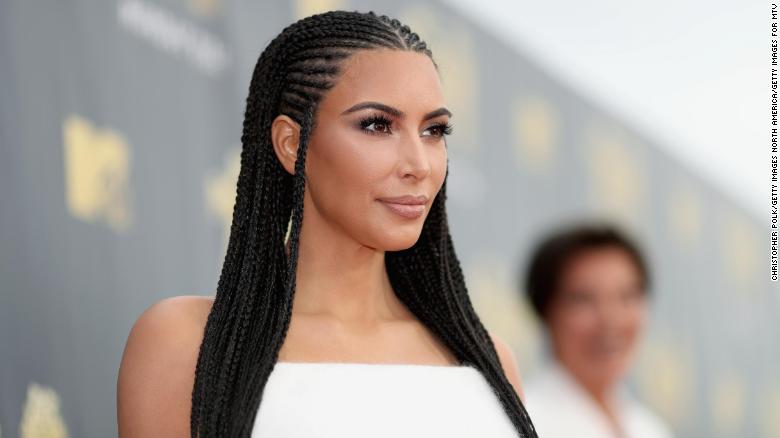 TV personality Kim Kardashian attends the 2018 MTV Movie And TV Awards at Barker Hangar on June 16, 2018 in Santa Monica, California. When Kardashian West famously set out to "break the internet" by showing off her generous rear end for Paper magazine, the image engendered some rage in the Black community by those who saw it as a parody of Saartjie Baartman, a Black woman who was labeled "Hottentot Venus" and marketed as an exhibit in a traveling "freak show" during the era of slavery in the US.
Political commentator Sally Kohn wrote a piece for the Washington Post about Kardashian West's photo spread and raised other examples of the family stoking anger regarding racial issues.Kohn noted that Kardashian took a swipe at her haters for saying she doesn't posses any talent."But I think Kardashian does have a talent — exploiting the fetishization of women of color to line her own pocket," Kohn wrote.
"She's like a buck-naked Trojan horse for a devious message: that the rest of us shouldn't get our panties in a bunch about sexism and racism because, hey, Kim Kardashian is laughing about it. All the way to the bank."Kardashian West has since evolved and in May spoke out about White privilege and in support of Black Lives Matter.
That hasn't stopped the anger geared towards her and her family from some in the Black community.
Have you visited our Market Place Today? Follow this link to visit Globalinfo247.com Market Place now to check out our affordable products & services that might interest you and solve your current needs at a very cheap price. You can also Advertise your Own Products & Services at the Market Place for Free by clicking on this link to Get Started!
Create a thread for all your related questions to get answers from other members and professionals in the field. Click here on the "Questions & Answers" Section to view or submit your Questions or Answers to previously asked related questions.