FMOH Nigeria: gives guidelines to adhere to all #COVID19 preventive measures
Mental health is an integral aspect of health that needs to be protected during the #COVID19 pandemic by the Federal Ministry of Health Nigeria (FMOH).
Get adequate rest & sleep
Exercise your body
Eat healthy
Stay positive
Avoid alcohol & drug use.
Honour carers and healthcare workers in supporting people affected with Covid-19 in your community. Acknowledge the role they play in saving lives and keeping your loved ones safe.
Fear, worry, and stress are normal responses to perceived or real threats, and at times when we are faced with uncertainty or the unknown. So it is normal and understandable that people are experiencing fear in the context of the Covid-19 pandemic.
Meanwhile, added to the fear of contracting the virus in a pandemic such as Covid-19 are the significant changes to our daily lives as our movements are restricted in support of efforts to contain and slow down the spread of the virus. Faced with new realities of working from home, temporary unemployment, home-schooling of children, and lack of physical contact with other family members, friends and colleagues, it is important that we look after our mental, as well as our physical, health.
According to World Health Organization (WHO), together with partners, is providing guidance and advice during the COVID-19 pandemic for health workers, managers of health facilities, people who are looking after children, older adults, people in isolation and members of the public more generally, to help us look after our mental health.
Bereavement, isolation, loss of income and fear are triggering mental health conditions or exacerbating existing ones. Many people may be facing increased levels of alcohol and drug use, insomnia, and anxiety.

Meanwhile, Federal Ministry of Health Nigeria (FMOH) says that Covid-19 itself can lead to neurological and mental complications, such as delirium, agitation, and stroke. People with pre-existing mental, neurological or substance use disorders are also more vulnerable to Covid-19 infection and they may stand a higher risk of severe outcomes and even death.
Take Responsibility!
Mental health is an integral aspect of health that needs to be protected during the #COVID19 pandemic:
✅Get adequate rest & sleep
✅Exercise your body
✅Eat healthy
✅Stay positive
❌Avoid alcohol & drug use.

Adhere to all #COVID19 preventive measures.#TakeResponsibility pic.twitter.com/YyYowcJGdz

— Federal Ministry of Health, NIGERIA (@Fmohnigeria) December 9, 2020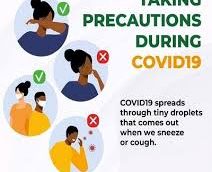 Read Also: How To Reduce The Risk Of Covid-19 Infection