Suya Spice (Yaji): Recipe, Preparation & Facts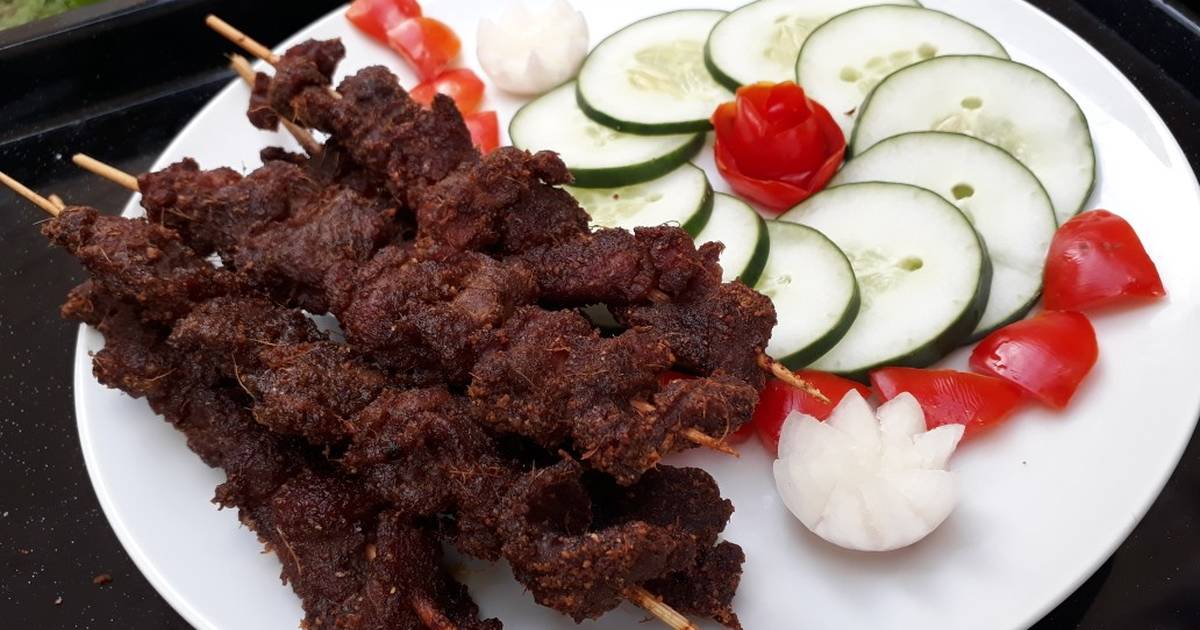 Suya (suya suya) is a very popular fried and garnished beef enjoyed by almost everyone in the West African region, this is very common among the Hausa people as they engage in making this delicious suya one of the major occupations of the Hausa's suya business.
However, the suya is very sweet and delicious but it is only possible with the help of a spice called the suya spice.
In this article, we'll be looking into what the spice is, how to make it, its nutritional values and how to use it.
The suya meat is normally prepared on a grill or aluminum pan with a drizzle of peanut or meat fat oil and a mix of suya spices.
Most people find it hard to resist suya once sighted because of the look and other things.
The suya meat after it has been prepared is then wrapped in a foil wrapper or paper and garnished with vegetables like onions, and tomatoes slices, yummy right?
If you are not a fan of this sweet and delicious suya, then you've been missing out a whole lot on its benefits and taste.
As in this article, we'll be sharing tips on how to make the suya spice recipe.
Read Also: Different Foods that can cause or prevent cancer
What Does Suya Spice Mix Entail?
The suya spice a nothing but a blend of veggies and groundnut oil and pepper, it is used by all.
This sweet blend of veggies, spice, and groundnut oil can also be used in preparing barbecue meat, this spice is also known as yaji or tsire in Nigeria and also known as chichinga by Ghanaians.
The origin of the suya spice can be traced to the Hausas from the Northern part of Nigeria.
However, the suya spice can also be prepared a traditional way by mixing it with ground 'kuli kuli'(African Biscuit cake) in conjunction with some local spices such as ginger pepper and grains of Selim.
Kuli kuli is nothing but a fairly solid fried cake made from defatted groundnut paste, and this is the base ingredient of suya spice.
Although in this article we are focusing on a global side of view, that is people who may not have access to some of the local ingredients of the suya mix spice, like the 'kuli kuli'.
But this 'kuli kuli', can be made easily at home and can be found in some supermarkets.
Read Also: 28 Best Energy-Boosting Foods and Drinks
How Can I Use Suya Spice?
From being a local spice mix of suya spice, this spice has gone a long way as a major spice in preparing a barbecue and other meat-related jobs.
You should also know that this spicy flavor can also be used to spice up your dishes.
This suya spice mix works very well with roast potatoes, you can also use it in meats for sandwiches and even oven bakes.
There are so many ways the suya spice mix can be used in preparing dishes.
You can just sprinkle it over your food with a mix of other seasonings.
Below are some ideas for what you can use the suya spice for at home;
(1) You can use it in frying eggs, just mix it before frying.
(2) You can use it to add flavors to your chicken suya wrao and sandwiches.
(3) Also, you can sprinkle it over plantain before frying.
(4) Can also be used in flavoring meats and fish before cooking.
(5) Can also be used as a spice for suya prawns noodles stir-fry.
(6) Suya beef with a sprinkle of suya spice
Read Also: Top 9 Foods & Drinks That Can Be Inflammatory
Homemade Suya Spice Recipe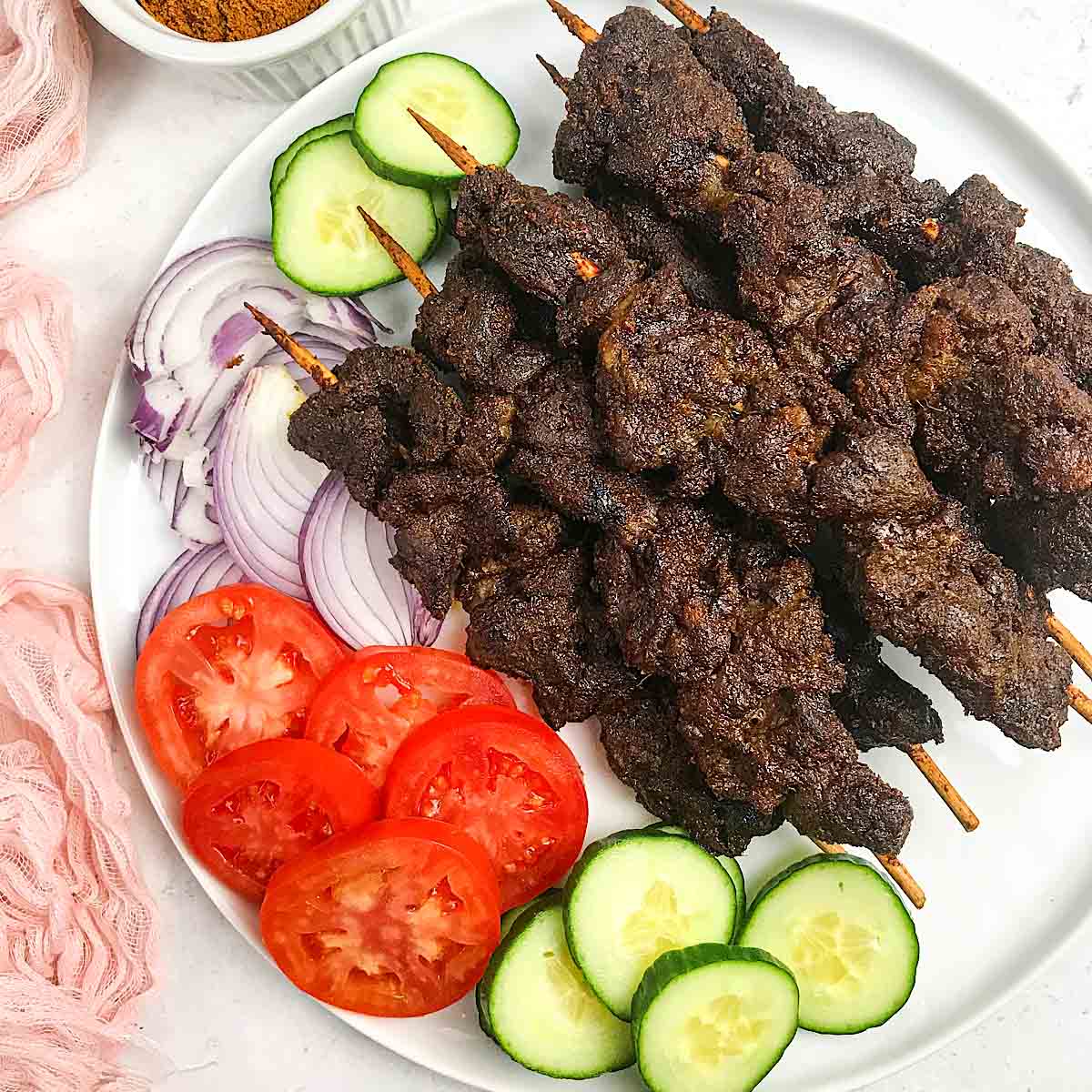 Below are the necessary ingredients for the suya spice recipe:
(1) Peanut or kuli kuli
This is no doubt the major key ingredient in the suya spice, so if you can't get the local kuli kuli, then you can just go with the peanut powder.
Peanut powder is very popular and can be found in most supermarkets.
(2) Grinded dried pepper & Parika
The suya spice generally is traditional, and the heat level of the spice matters, you can get dried long peppers from the market for this.
While the Parika serves the same purpose as the grinded dried pepper, it doesn't add heat, but colors and flavors so you might choose to go with it instead.
(3) Salt & Seasoning Cubes
Salt & a mix of seasoning cubes is also vital in the preparation of a suya spice mix as it adds taste to the spice, make sure you don't over-add too much salt as it may spoil the taste of the spice.
Read Also: 4 Ways to Make Money with Old or Waste Home Appliances
How to Make Suya Spice
All the ingredients listed below should be combined in a bowl and mixed well.
It is recommended that you keep suya spice in an air-tight container.
(1) Preparation time – 10 mins
(2) Cook time – 0 mins
(3) Servings – 10
(4) Calories – 24 kcal
Spice Mix Ingredients
4 Tablespoons Peanut butter powder
3 Tablespoons Paprika
2 Tablespoons Ginger powder
1 Tablespoon Garlic powder
1 Tablespoon Onion powder
1 Tablespoon Ground Pepper/Pepper flakes
1 Teaspoon Cloves
1 Teaspoon Salt
Note: Mix all ingredients thoroughly in a bowl.
Read Also: Garri (Cassava) Production Process Complete Guide
Nutritional value of Suya Spice Mix
Calories: 24kcal
Carbohydrates: 4g
Protein: 2g
Fat: 1g
Saturated Fat: 1g
Cholesterol: 1mg
Sodium: 261mg
Potassium: 83mg
Fiber: 2g
Sugar: 1g
Vitamin A: 1119IU
Vitamin C: 1mg
Calcium: 12mg
Iron: 1mg
Read Also: 28 Great Small Business Growth Marketing Tips
And there you have it, your delicious suya spice mix, you can enjoy it with other foods also.
Was this article helpful? Share your thoughts and opinions in the comments section below.
Have you visited our Market Place Today? Follow this link to visit Globalinfo247.com Market Place now to check out our affordable products & services that might interest you and solve your current needs at a very cheap price. You can also Advertise your Own Products & Services at the Market Place for Free by clicking on this link to Get Started!
Create a thread for all your related questions to get answers from other members and professionals in the field. Click here on the "Questions & Answers" Section to view or submit your Questions or Answers to previously asked related questions.