Amy Coney Barrett: Trump US Supreme Court Pick grilled on Presidential Powers
President Donald Trump's Supreme Court nominee Amy Coney Barrett has declined to say whether a president can pardon himself.
But in a Senate hearing to decide whether she will be confirmed to the court, Judge Barrett agreed that no-one was above the law.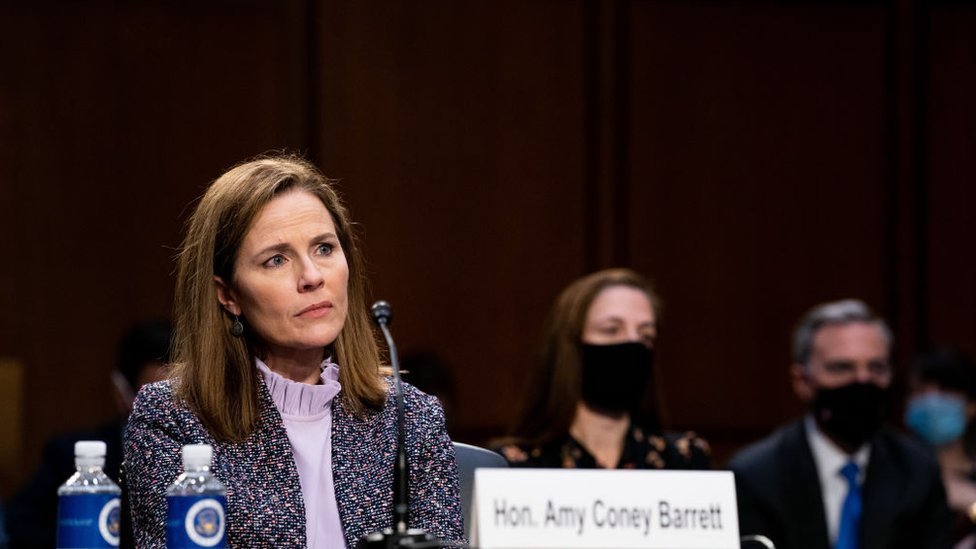 Mr Trump has said he has the "absolute power" to pardon himself, part of his authority to grant clemency.
Republicans are pressing to confirm her before the 3 November election.
Democrats have failed to draw Judge Barrett on issues like climate change, abortion, healthcare and LGBTQ rights. On Wednesday she again declined to answer what she described as "hypothetical" questions.
Like many previous judicial nominees in such confirmation hearings, she has insisted she will decide cases as they arrive and not apply a personal agenda.
Judge Barrett is the proposed replacement for liberal Justice Ruth Bader Ginsburg, who died last month aged 87. The appointment is lifelong.
Her confirmation would give the nine-member court a 6-3 conservative majority, swinging its ideological balance for potentially decades to come.
What did she say on presidential self-pardons?
On day four of Judge Barrett's confirmation hearings before the Senate Judiciary Committee, Democratic Senator Patrick Leahy asked her whether a president could pardon himself for a crime.
The nominee – Mr Trump's third for a Supreme Court vacancy – said the "question has never been litigated".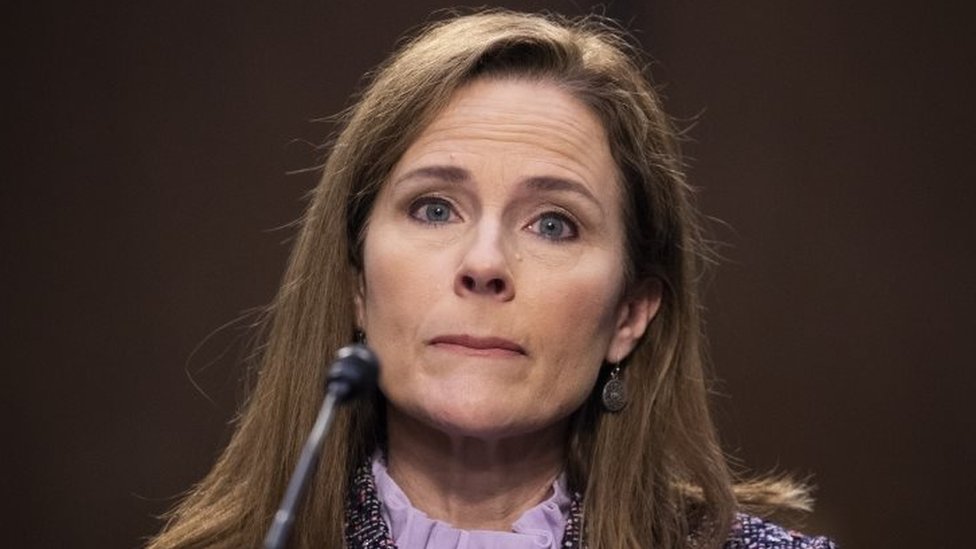 She added: "So because it would be opining on an open question when I haven't gone through the judicial process to decide it, it's not one on which I can offer a view."
Judge Barrett added that the top US judicial body "can't control" whether a president obeys its decisions.
What did she say on climate change?
Judge Barrett also declined to express a view on climate change as she was questioned by Senator Kamala Harris of California, the Democratic vice-presidential nominee.
Ms Harris asked Judge Barrett whether she thinks the coronavirus is infectious and whether smoking causes cancer, both of which she agreed with.
But when asked whether "climate change is happening and it's threatening the air we breathe and the water we drink", Judge Barrett refused to express a view.
She said it was "a very contentious matter of public debate, and I will not do that, I will not express a view on a matter of public policy, especially one that is politically controversial".
Scientists say that climate change is caused by people burning fossil fuels, and is getting worse.
A climate change case is already on the Supreme Court docket and will come before Judge Barrett if she is confirmed.
What did she say on abortion?
Lindsey Graham, Republican chairman of the Senate Judiciary Committee, was happy to highlight Judge Barrett's well-documented personal opposition to abortion, saying at the start of Wednesday's hearing: "This is the first time in American history that we've nominated a woman who is unashamedly pro-life and embraces her faith without apology."
The nominee responded to one question by saying the 1973 Roe v Wade ruling that recognised a woman's constitutional right to abortion did not constitute a "super-precedent", leaving the door ajar to the landmark ruling being revisited.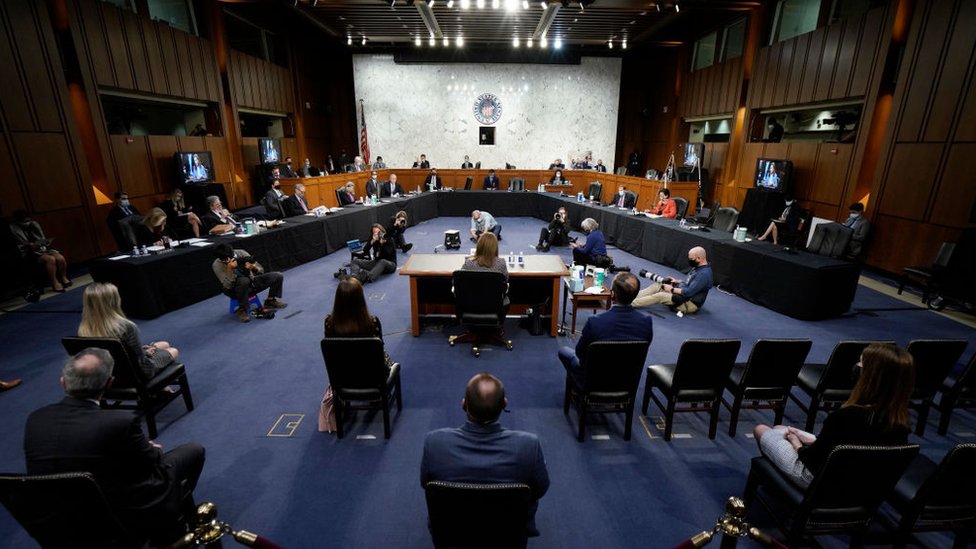 "I'm answering a lot of questions about Roe which I think indicates that Roe doesn't fall into that category [of super-precedent]," Judge Barrett told Democratic Senator Amy Klobuchar.
She added: "Scholars across the spectrum say that doesn't mean that Roe should be overruled but descriptively it does mean that it's not a case that everyone has accepted and doesn't call for its overruling."
Judge Barrett has declined to answer how she would rule on a challenge to this decision, but maintained that her personal views would not influence how she would rule in Supreme Court cases.
What did she say on healthcare?
Democratic senators have narrowed in on the fate of the Affordable Care Act (ACA) – also known as Obamacare – should Judge Barrett be confirmed.
The Supreme Court hears a case against the public health insurance scheme next month.
Read Also: Coronavirus Momentous Errors Worsened Austria Ski Resort Outbreak
In a 2017 law review essay, Judge Barrett criticised Supreme Court Chief Justice John Roberts's 2012 opinion on the act's individual mandate, which imposed a penalty for anyone who did not sign up for insurance. When pressed on Tuesday, Judge Barrett insisted she was "not hostile to the ACA".
And on Wednesday, she defended past criticism of the ACA, saying she was "speaking as an academic".
Asked by Democratic Senator Patrick Leahy if she had ever spoken in favour of the legislation, Judge Barrett said no, adding she had "never had a chance to weigh in on the policy question".
What next?
On Thursday, the final day of hearings, senators will call a series of witnesses for questioning.
Republicans are expected to use their witnesses to highlight Judge Barrett's character and qualifications, while the Democratic line-up will again focus on their key talking points: the future of abortion and the ACA.
The Judiciary Committee is expected to vote on 22 October on whether she should get the job.
As early as a day later the full Senate will vote on whether to confirm her.
Republicans seem to have the 51 votes needed to get Judge Barrett confirmed.
Have you visited our Market Place Today? Follow this link to visit Globalinfo247.com Market Place now to check out our affordable products & services that might interest you and solve your current needs at a very cheap price. You can also Advertise your Own Products & Services at the Market Place for Free by clicking on this link to Get Started!
Create a thread for all your related questions to get answers from other members and professionals in the field. Click here on the "Questions & Answers" Section to view or submit your Questions or Answers to previously asked related questions.