Joe Biden hearing from workers and small business owners on the economic impact of COVID-19
Yesterday, Joe Biden spent the afternoon hearing from workers and small business owners on the economic impact of COVID-19 on their lives. Americans are hurting — it's why as president, I'll work to provide immediate relief and get our economy back on track… he said
On the other hand establish a COVID-19 Racial and Ethnic Disparities Task Force, as proposed by Senator Harris, to provide recommendations and oversight on disparities in the public health and economic response.
He further stated that after the end of this health crisis, it will transit to a permanent Infectious Disease Racial Disparities Task Force.
Also according to him, restoring our relationship with the World Health Organization (WHO), is perfect and essential to coordinating a global response during a pandemic.
Yesterday, I spent the afternoon hearing from workers and small business owners on the economic impact COVID-19 has had on their lives. Americans are hurting — it's why as president, I'll work to provide immediate relief and get our economy back on track. pic.twitter.com/Cyw0DhJCpP

— Joe Biden (@JoeBiden) December 3, 2020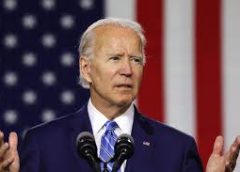 Read Also: Joe Biden's True Grit And Trump's Strategic Failure