Kenyan comedian Elsa wins People's Choice Award
Kenya's internet comedian Elsa Majimbo is been named winner of African Social Star category at the 2020 People's Choice Awards event.
It is of America's biggest award shows and celebrates the top stars in fashion and entertainment with fans voting to decide the winners.
Elsa's win was announced on Monday:
The 19 year-old comedian, who is based in Kenya's capital, Nairobi, rose to popularity in March during the coronavirus restrictions in her country.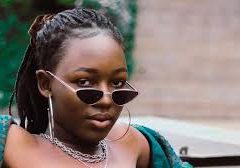 Her short comedic videos drew a worldwide audience and attracted interviews by top media houses in the US and Europe.
She has thanked her fans for their votes.
"Thank you so much to everyone who voted for me, thank you for everyone who supported me… I appreciate it so much," she said in a video posted on Twitter.
Read Also: Singer Mr Dutch Welcomes First Son