Tony Chung: Hong Kong Activist Detained Near US Embassy Charged
Hong Kong teen activist Tony Chung has been charged under a new national security law, just days after he was detained outside the US consulate.
Mr Chung, 19, had reportedly planned to enter the consulate and claim asylum.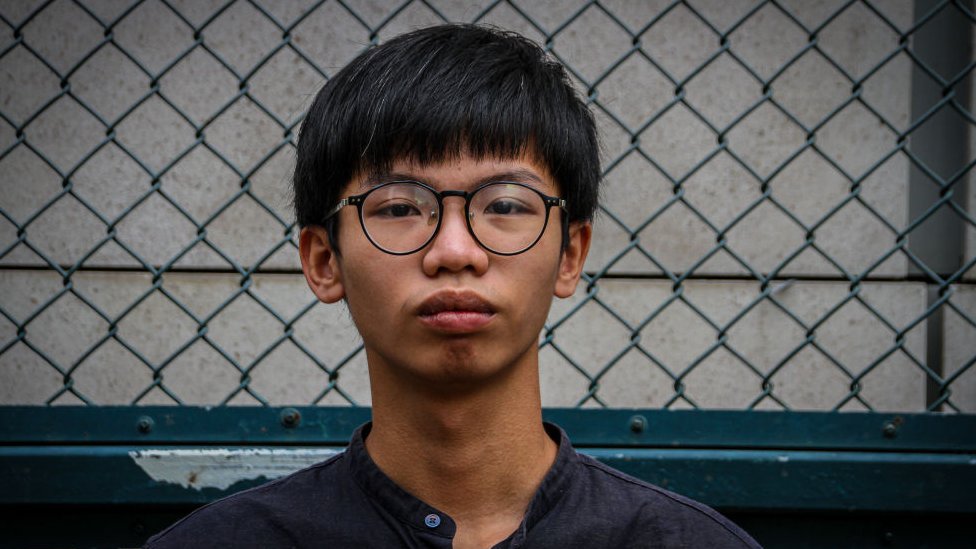 He faces possible life imprisonment if found guilty of secession, conspiracy to publish seditious content, and money laundering.
Mr Chung, the second person to be charged under the law, was denied bail by the court.
The controversial law was imposed by China on Hong Kong in June, making it easier to punish protesters and reducing the city's autonomy.
The law is wide-ranging and gives Beijing extensive powers which it never had before to shape life in the territory.
Critics say the law erodes the city's judicial independence and rights like freedom of speech, and that it has created a sense of fear and uncertainty in Hong Kong.
The United States, which under the Trump administration has taken a hard line against China, criticized the arrest.
"The use of the National Security Unit of the Hong Kong Police Force for the detention of a minor in a coffee shop is reprehensible," said a spokesperson for the state department.
Joshua Rosenzweig, the head of Amnesty International's China Team, said Chinese authorities had carried out a "politically motivated arrest", part of an "intensifying attack on human rights in Hong Kong".
What do we know about Chung's detention?
According to the South China Morning Post, Mr Chung was detained on Tuesday morning at a coffee shop opposite the US consulate.
UK-based activist group Friends of Hong Kong said he had planned to enter and claim asylum. Instead, footage taken from near the consulate showed him being carried away by plain-clothes police.
Mr Chung, a former member of pro-independence group Studentlocalizm, had previously said that life under the new law had become more restrictive for him and other activists.
He told BBC Chinese in a recent interview that he felt he could not talk or act freely, and had to "worry about the red lines all the time".
But he also said activists had not given up fighting and that "at the right moment, we will come out to protest again".
"Yes we lose at this moment. But the road to democracy is always long."
He will remain in custody until his next court appearance on 7 January next year.
What is Hong Kong's new security law?
Hong Kong's national security law was imposed by Beijing in June after months of huge pro-democracy protests last year against an extradition bill.
The new law makes secession, subversion of the central government, terrorism or collusion with foreign forces punishable by up to life in prison.
In July, several were arrested under the new powers, including a man carrying a "Hong Kong Independence" flag.
Critics say it effectively puts an end to the freedoms guaranteed by Beijing for 50 years after British rule ended in Hong Kong in 1997, but China says it will return stability to the city.
After the passing of the security law, the UK's Prime Minister Boris Johnson said he would offer up to three million Hong Kong residents a chance to settle in the UK and ultimately apply for citizenship.
Read Also: Philadelphia Rocked By Fresh Unrest After Police Shooting
China criticized the suggestion, saying it would take countermeasures against the UK should it grant residency to Hong Kong residents.
It's only when you sit back and ask yourself, "What has Tony Chung actually done?" that you realize just how draconian Hong Kong's state security law is.
Among the accusations against Mr Chung: that he posted on social media advocating independence for Hong Kong.
According to Joshua Rosenzweig, the head of Amnesty International's China Team, "a peaceful student activist has been charged and detained solely because the authorities disagree with his views".
Consider it another way. Mr Chung is 19 years old. What views were you expressing when you were 19? What opinions were others expressing? Should you have been threatened with life imprisonment for them?
In just a matter of months, the pro-Beijing camp in Hong Kong has made use of the new national security law to erode the harbour city's once vaunted freedom of speech. It is nothing short of a disaster for the vast majority of residents who voted for the pro-democracy block in the most recent local elections.
As a document, the proposed law was frightening, but now people are seeing the reality: state security agents grabbing teenage activists from cafes and taking them away perhaps for the rest of their lives. On the ground in Hong Kong, the shocking reality of the new legal regime is becoming clear.
Have you visited our Market Place Today? Follow this link to visit Globalinfo247.com Market Place now to check out our affordable products & services that might interest you and solve your current needs at a very cheap price. You can also Advertise your Own Products & Services at the Market Place for Free by clicking on this link to Get Started!
Create a thread for all your related questions to get answers from other members and professionals in the field. Click here on the "Questions & Answers" Section to view or submit your Questions or Answers to previously asked related questions.