Actress faces prosecution after debate over pictures of her
An Islamic scholar in northern Nigeria has called for local actress Rahama Sadau to be charged in an Islamic court for reportedly triggering blasphemous comments about the Prophet Muhammad, after sharing pictures of herself wearing a backless dress on social media that were considered by some as indecent.
The actress apologized and deleted the images following outrage from many in northern Nigeria.
However, that wasn't enough to stop an Islamic scholar from asking for her prosecution in a Sharia court, not because of the images themselves but because of the reaction to them.
As people came to Sadau's defence over the pictures they also criticized the prophet.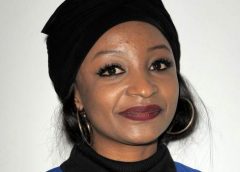 Aliyu Dahiru, who researches gender issues in northern Nigeria, called the attempted prosecution an "over-reaction" adding that "the misogyny in the north is aiding cyber bullying".
Read Also: Tonto Dikeh I Was Almost Jailed In Dubai
Sadau has been suspended from the northern movie industry in the past for featuring in a music video and appeared to be hugging the male artist.