How to reduce the risk of Covid-19 infection by FMOH Nigeria
Federal Ministry of Health Nigeria (FMOH), says we can reduce the risk of #COVID19 infection by adhering to all non pharmaceutical measures on #COVID19 prevention:
Wear a mask
Maintain a distance of 2m from others
Wash Your Hands with soap and water
Practice good respiratory hygiene
They stated that if COVID-19 is spreading in communities, we should stay safe by taking some simple precautions, such as physical distancing, wearing a mask, keeping rooms well ventilated, avoiding crowds, cleaning your hands, and coughing into a bent elbow or tissue.
Maintain at least a 1-metre distance between yourself and others to reduce your risk of infection when they cough, sneeze or speak. Maintain an even greater distance between yourself and others when indoors.
According to the Federal Ministry of Health Nigeria (FMOH), the risks of getting COVID-19 are higher in crowded and inadequately ventilated spaces where infected people spend long periods of time together in close proximity. These environments are where the virus appears to spreads by respiratory droplets or aerosols more efficiently, so taking precautions is even more important.
Take Responsibility!
We can reduce our risk of #COVID19 infection by adhering to all non pharmaceutical measures on #COVID19 prevention:
✅Wear a #mask
✅Maintain a distance of 2m from others
✅ #WashYourHands with soap & water
✅Practice good respiratory hygiene#TakeResponsibility pic.twitter.com/0EPaOf4i52

— Federal Ministry of Health, NIGERIA (@Fmohnigeria) December 10, 2020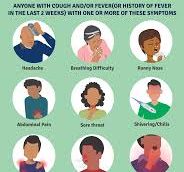 Read Also: Dangote to Spearhead Funding of Healthcare By Billionaires