Trump's two RNC appearances Tuesday were the most direct use of his office for political gain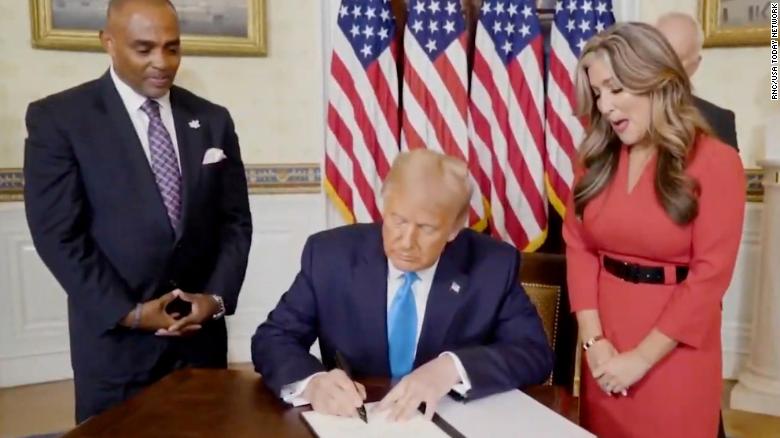 If voters see a president at work, perhaps they'll be more likely to reelect him.That was the calculation Tuesday, when President Donald Trump took the powers of his office and applied them openly and brazenly to his political efforts.
Already treading on ethical lines by hosting his convention partly from the White House, Trump burst past them in his taped appearances issuing a pardon and presiding over a naturalization ceremony.
Later his secretary of state appeared in a video taped on an official trip to Israel, a move that's already prompted an investigation from House Democrats.The advantages of incumbency are afforded to any sitting president. But Trump's use of his office went well past his predecessors.
The effect was a markedly more forward-leading tone than the somber debut evening on Monday. The second evening highlighted Trump's support for everyday Americans, bolstered his backing among evangelicals and underscored his achievements abroad — even as it seemed, at moments, to ignore the realities of a country confronting a historic pandemic and racial unrest.
It took an evening-ending speech from first lady Melania Trump to finally address the realities of the still-ongoing coronavirus pandemic and to confront aspect of the country's ugly history that are facing new reckoning — while also laying out second-term initiatives that seemed more detailed that what her husband has cited as rationale for reelection.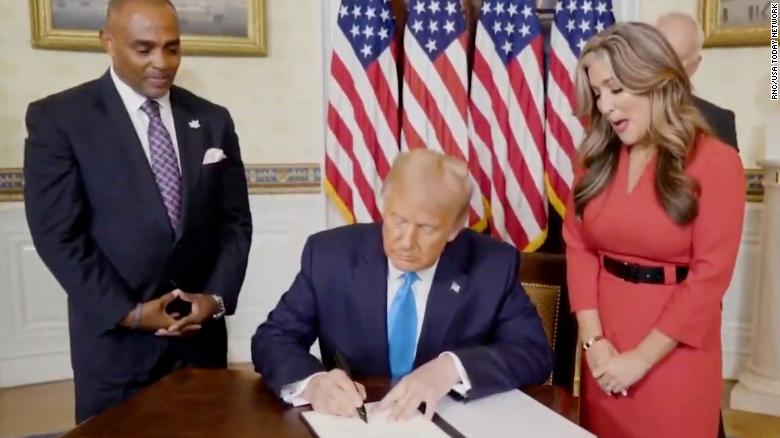 Tuesday also put more members of Trump's family on display, even as his rival Joe Biden was accused of nepotism.Here are six other takeaways from the second night of the Republican National Convention:
two "surprise" appearances during Tuesday's convention blatantly used his presidential powers to promote a political message — advancing the impression that Republicans are exploiting his office to support his reelection.
In pretaped videos, the President issued a pardon for a man who had robbed a bank in Nevada and later founded an organization for former inmates, and then Trump presided over a naturalization ceremony for new American citizens — two acts that flexed the powers of the incumbency during the highest-profile political event of the calendar.
All presidents, in some way, use the powers of their office when it comes time for reelection. That includes highlighting executive orders that benefit key voting blocs or touting foreign policy achievement available only to the sitting commander in chief.
Read Also: Oyo State Government Denies Claims Of Delaying The Funeral Of Ex Governor Abiola Ajimobi
But never have those moves been so blatantly staged for political gain — as they appeared to be Tuesday, with highly produced videos meant for debut at a political convention.Trump had already been accused of violating ethics norms by utilizing the White House for his upcoming convention speech on Thursday.
Secretary of State Mike Pompeo, whose convention speech Tuesday is unprecedented for the country's top diplomat, is now being investigated by House Democrats for the speech he taped from a hotel rooftop during an official trip to Israel.But the two appearances Trump taped on Tuesday were the most direct use of his office for political gain. Pardon power is one of the most sweeping prerogatives a president enjoys, spelled out in the Constitution.
Trump has previously deployed it for political allies or people with high-profile cases.On Tuesday, the White House released a video clip on YouTube of Trump issuing a full pardon for Jon Ponder, a former bank robber who's the founder and CEO of HOPE for Prisoners, a ministry in Las Vegas that helps those who are incarcerated reintegrate into the community.
It also posted a video of Trump overseeing a naturalization ceremony for five new US citizens. He emphasized the achievements of each of the citizens, and congratulated them on coming to the country legally.
"You followed the rules, you obeyed the laws, you learned your history, embraced our values and proved yourselves to be men and women of the highest integrity," the President told the participants. Both events occurred at the White House.
Administration officials have said previously that Trump's use of the building doesn't violate any laws and that staffers are permitted to participate on their own time as long as his appearances occur in the residence portion and not the West Wing.
After a two-hour program that made almost no mention of the coronavirus pandemic still crippling the country, first lady Melania Trump offered the first words of sympathy of the entire convention for Americans who had lost loved ones to the disease.
"My deepest sympathy goes to everyone who has lost a loved one and my prayers are with those who are ill and suffering," she said, acknowledging that all Americans' lives had "changed drastically" and that many people were anxious or helpless.
"I want you to know you are not alone," she said. "My husband's administration will not stop fighting until there is an effective treatment or vaccine for everyone."Later, she also acknowledged current racial unrest that her husband has stoked with racist rhetoric and an appeal to "heritage.
Read Also: Why Nadia Rose Put Her Finger Up To Music Bosses
""It is a harsh reality that we are not proud of parts of our history," she said. "I encourage people to focus on our future, while still learning from our past. We must remember that today, we are all one community, comprised of many races, religions, and ethnicities.
"Her message of gratitude to front-line workers and compassion for those who lost everything were a sharp break from any previous speaker, many of whom either glossed over the bitter realities of the crisis or ignored it altogether.
One benefit of using the White House for this week's convention was marshaling the public health resources that have allowed President Trump to proceed relatively unencumbered by the pandemic.
During his naturalization and pardon ceremonies, and during the first lady's address in the Rose Garden, none of the participants wore masks — and, because they came into close proximity with the President, had presumably been tested under a strict diagnostic protocol administered by the White House.
Unlike Democrats and most other Americans, Trump is surrounded by a security and safety bubble that has protected him from the virus. It allows him to go about life almost like normal, which is a reality Republicans would love to project but that won't look familiar to many Americans still working from home, wearing masks to stores and restaurants and struggling to juggle the mounting pressures of a generational crisis.
On Monday, Trump and others had sought to rewrite the pandemic's history, ignoring his attempts to downplay the outbreak early on and failing to mention the staggering death toll.On Tuesday, the pandemic was almost entirely absent until Melania Trump spoke.
Watching the convention and listening to its speakers, the consistent references to coronavirus in the past tense were jarring.Larry Kudlow, the President's top economic adviser, said the pandemic "rocked us all back on our heels" but the President "went to work" to "preserve our jobs and our livelihoods" — as if the crisis were over.
The first lady, whose speech was not vetted ahead of time by the President's aides, took a dramatically different approach."I want to acknowledge the fact that since March, our lives have changed drastically," she said, acknowledging a reality that her husband has not. "The invisible enemy, Covid-19, swept across our beautiful country and impacted all of us."
Have you visited our Market Place Today? Follow this link to visit Globalinfo247.com Market Place now to check out our affordable products & services that might interest you and solve your current needs at a very cheap price. You can also Advertise your Own Products & Services at the Market Place for Free by clicking on this link to Get Started!
Create a thread for all your related questions to get answers from other members and professionals in the field. Click here on the "Questions & Answers" Section to view or submit your Questions or Answers to previously asked related questions.